The Burren Sonas Kindergarten is a community-based preschool service located in the heart of Kilfenora, Co. Clare. We offer a service from 9.30 a.m. to 1.00 p.m, Monday to Friday. We are in our 15th year of serving families by offering a Steiner based approach to childcare. Our varied programme includes painting, cooking and baking, daily walks, crafts and story telling. We have a lovely collection of wooden toys, games, and dolls made from soft, natural materials. We use organic foods and produce in our daily cooking whenever possible!
My hands are small, my heart is HUGE!
I laugh, I cry, I sing.
I walk and run, I craft and paint
Life's every little thing.
There is funding for ECCE (free preschool scheme) and the SSC scheme for those who are eligible. Children in attendance must be a minimum of 2.5 yrs of age and toilet independent when they begin.
Now taking enrollment for September 2022.
To express interest in having your child attend our kindergarten, please complete and return the EXPRESSION OF INTEREST FORM.
---
A Day in the life at Kindergarten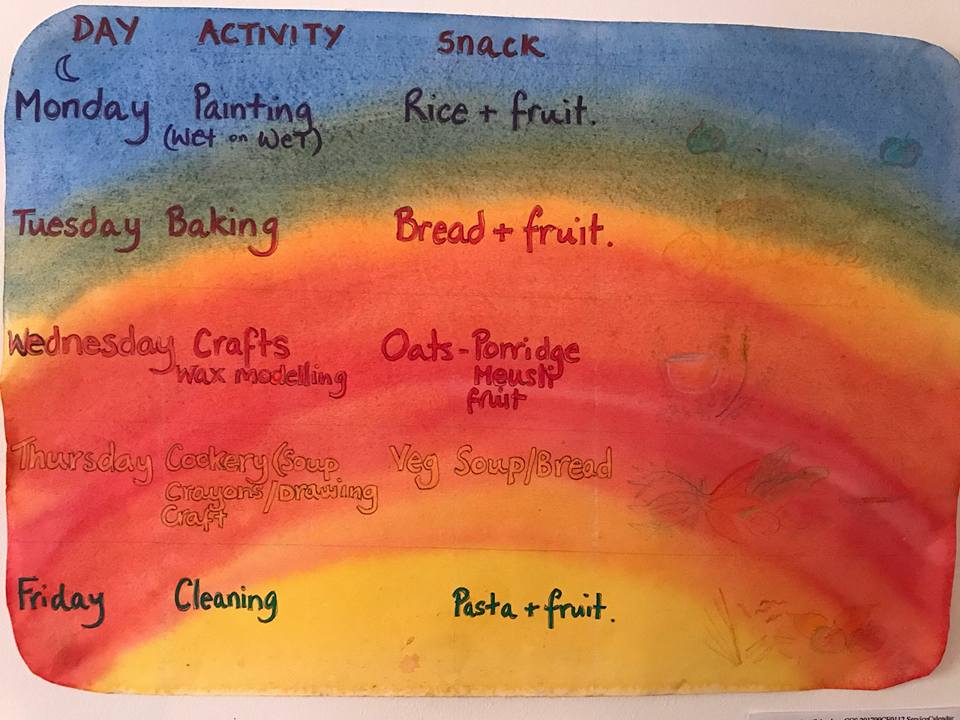 The children learn in a very natural way through actively participating in everyday skills and the imitation of busy happy adults. There is a strong repetitive rhythm to our week, which includes creative or practical activities, e.g. painting and rice on Monday, baking bread on Tuesday, crafts and muesli on Wednesday.
Each day, there is a feeling of excitement as the children arrive, dressed in their all-weather gear for some outdoor play (waterproofs are essential as we must be prepared for all weather)! We walk to the garden and come together with songs and movement circle. The children love being outside, exploring and being active in nature.
Once back indoors, the children change and enjoy a bit of free play or craft depending on the day of the week. Then we sit together at the table and share a healthy organic meal, which the children really enjoy. We wash up and the children go and play. The toys are simple and made of natural materials which encourage them to use their imagination. When it's time to tidy up we sing a simple song and the children join in and then it's time for a story or puppet show before we sing our goodbyes.